What makes VR venues unique?
We've been doing it all before COVID was a thing.
Too much? Well, I still believe it to be valid. Some key elements distinguish Virtual Reality from other entertainment forms, making it exceptionally safe. All other entertainment options are lacking, including restaurants and bars.
Not to bash on restaurants or water holes, but we go to them for a different kind of experience versus going to a movie, a show… rock climbing… Now the thing is, we are in a very dynamic situation where the rules of social interaction change every day, with no sign of slowing down soon. 
"No! Blasphemy!" – you say. Well, hear me out, call out my bullshit after you read. Here are my 3 simple reasons for why everything above is true:
1. Social Distancing

Virtual Reality venues can only accommodate 1 guest per booth at a time. Each booth should have a minimum of 6×6 feet of space. The user is generally in the middle, and booths are typically positioned side-by-side due to technological constraints. So in a typical scenario, users are 6 feet apart! The same technical rules that force booths to be side by side also require a physical divider. 
So, from a Social Distancing standpoint, things cannot be any better in a public context.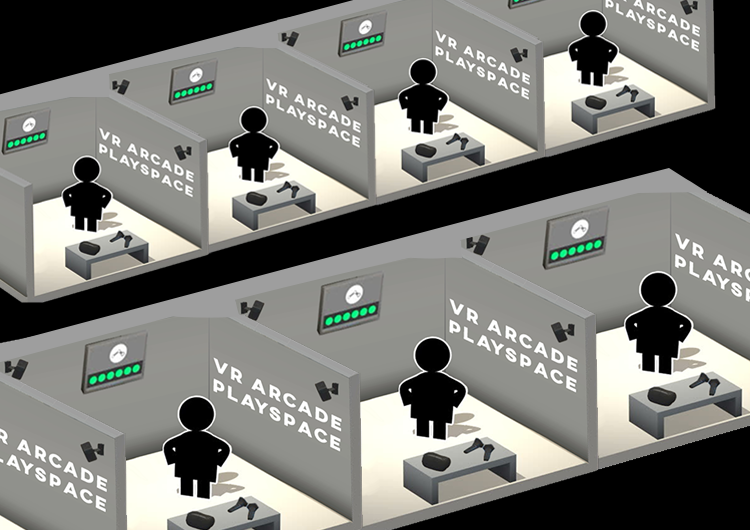 2. Hygiene and Sanitation

Dear reader, as we often tell our guests, Pink-Eye was a thing long before COVID. Many eye infection epidemics had occurred in the early days of virtual reality as it was paraded at tech expos, long before it got in the public's hands. The industry has learned the hard way, unfortunately, that hygiene standards should always be high. So what did that mean for those visiting a virtual reality venue before COVID? It ensured that any business worth it's salt was cleaned the hardware with some form of disinfectant after or before each use. This process ensured that faces and hands always touch clean surfaces. We've also been adding a gasket of sort between the users' face and headset, what we called at the time a single-use facemask.
Now with COVID being a thing, the standard, mandated, surface cleaning has been implemented. But what we've been actively doing is wiping down that physical divider after each user as well. To ensure that we don't address only high contact areas but also the surfaces on which our guests would breathe on the most.

3. General Conduct

The ideal guest of a Virtual Reality venue, similar to that of an internet cafe, should be able to go about their business with no or minimal interaction with the staff. Processes should be as simple as possible and easy to understand. Granted, given the technology's novelty, it is understandable that some guests would need a bit more attention than others.
From our earliest beginnings at the dawn of virtual reality back in 2017, we have strived to educate and prepare our guests to be self-reliant before putting on the equipment. We knew that the day would come when the technology would be affordable. Enough that many would still get it at home; despite not having enough living room space. That day is technically October 13th, 2020, with the Oculus Quest 2's release at $399 CAD. But with a week to go, you've probably missed out on the pre-order. I recommend you not get it because of reasons. I'm sorry if I ever said anything to the contrary.
All that hard work into educating our guests and streamlining our process was us trying really hard to stay away from our guests from the very beginning. We always loved you, but from afar. With COVID, we just had to go the extra mile and reinforce the learnings of putting on the equipment, so that our staff can help from afar with games, if and when needed.
Of course, on top of all this, face masks for COVID are required to be worn in the venue when not playing, and we won't judge you if you wear them when you are playing; after all, it builds lung capacity.
TL;DR
:
You are 6ft apart from the guest next to you. There is a physical barrier (a wall if you will) between the 2 of you.

High hygiene standards were a thing before COVID, and now are even higher. The equipment, surfaces, and walls get purified with fire (disinfectant) after each use.

The staff trains you and keeps the social distance.
And it should not even come into question that any business that wants to stay in business follows local, provincial, and federal best practice guidelines. So go out there and play VR! What else are you gonna do? Read a book or two? Pfff, nerd.