The Oculus Quest Isn't Perfect
Now we've got to the part that we talk about the things I don't like about the headset. Now the one thing that people have been knocking on this headset is the battery life, as it's only about two hours. Personally, I think that is totally fine because I don't really want to play for longer than two hours anyways. After about an hour with my glasses on, my head starts to get pretty sore. Also it gets really hot in VR, you know how it is.
I think that two hours is a perfect tradeoff for the amount of time you can spend in the Quest. If you lose yourself in the games, the fact that it dies after two hours gives you a good break. "OK, you should probably go take a walk, and air yourself out". The benefit of having a smaller battery is that it charges really fast. I think they really hit a sweet spot here so I wouldn't knock that as a con as many people have been.
The Controllers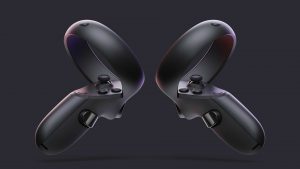 One of the first things that I really don't like about the headset is that I find the tracking of the controllers is just off enough sometimes that it's a bother. Coming from high-end VR with the Vive, tracking is always rock solid. The Quest does a pretty good job of this but for an example in a game like Beat Saber where where you're swinging your hands wildly, because of the limited field of view that the controllers have to be in, I have missed hits before. In Beat Saber, when you're playing on really intense songs, one missed hit or one missed tracking point means that you can ruin your whole song.
Ultimately, this is not a huge problem for most people. If you're not on Expert+ yet this might not affect you yet, but swinging your arms around like crazy will eventually cause some hiccups.
Small Positive
One of the nice things the Quest does a pretty good job of is trying to anticipate where your hand comes back when you swing behind you. Sometimes you do get a slight hiccup; you go to swing and it freezes for a half second and you miss what you were swinging at.
I've noticed it a couple times and it's not usually a big deal but in games like Sports Scramble, I have missed a few hits due to tracking. It's not ideal, and I just want to make you guys aware that this can be an issue. I would say that it's fine 90 to 95 percent of the time, it's just when you get to the extremes of the headset.
Number two of the headset is actually the adjustment of the headset. If you put your head in, you kind of pull it down. I just don't love pulling on it. You kind of hear it stretching and it doesn't sound great. And then adjusting the top strap is really annoying, you have to like pull it pretty hard to get it moving. It's not ideal but I understand why they did it. I would just prefer a locking clasp like the Vive Deluxe Head-Strap.
The Streaming
The last thing that I want to talk about is the streaming. The Oculus Quest is obviously a self-contained headset which means you can't see the user's perspective anywhere else. You can't plug in a monitor (yet or as to my knowledge). But what you can do is stream it to your phone or stream it to a Chromecast (which is still in beta right now). The only thing is that the Quest has the processing power to do it, but you need a really good internet connection for it to be anything half-decent.
The fact that I can just say, "Hey, check this out" and show them the phone while someone is playing is really cool. So once the quality gets better, I think it will be much better, but as of right now, sharing is a pretty big pain.
Battery Life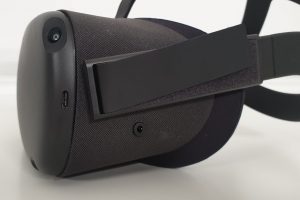 Finally, the last thing I wanted to talk about is not the battery life of the headset but the battery life for the controllers. I was actually really surprised that the battery life is as short as they were on these. I've had a couple of times where I would play for a long period of time, throw them back in the case, go to a friend's house and the batteries would be like 20 percent on the controllers. Always be prepared to have some extra double A's on you.
Truth be told, I think for this style of controller, I don't ultimately mind having the double A batteries. I know I really hated them on the Oculus Rift because it was a PC-based headset but I kind of understand the fact that if you're playing and your battery dies, you don't have to wait for it to recharge. I get it that Oculus is targeting the console segment, which is used to charging batteries, so I don't think it's a huge deal for most people but for me I really didn't like that the batteries died so fast on these controllers.
Conclusion
So with all that being said I really like the Oculus Quest overall. The knocks against it aren't major things for me and I can really live with them. I really do think this is a great entry into the books for the future of VR. Oculus is obviously targeting a lower-end market here but they're promising and delivering higher-end features as mentioned in the earlier parts of the review.
So although I really wanted to hate it at the beginning, this might be my favourite headset that I've ever used. So if you haven't tried the Quest yet I strongly recommend it, feel free to go to your local Best Buy  or your friends house might have one at this point, try it out. It's really awesome! If you guys have tried it out, let me know what you think and what your favourite game is on it because I definitely want to try some more.
Let me know if you share the same cons that I have with the headset or if you think I'm crazy. Thank you guys so much for reading. Please go ahead and read Part one of this story if you haven't already, I've linked it right here.
If you've never tried VR before, come by our venue located downtown Toronto! Click Here to Book Now!